We know the extreme pressure that an organisation can face when there are fluctuations in the supply and demand of products and services, having a flexible workforce is important to you and having an agency partner you can rely on and fully collaborate with is even more important. We have the skills, experience, and expertise to manage a full end-to-end management of a contingent workforce, from supplier management to strategic workforce planning and on-site contract management.

Roles we typically recruit for in this area are:
Warehouse Operatives

Pickers

Packers

Loaders

Unloaders

Forklift truck drivers (all licences)

Production Operatives

Assembly Operatives

Machine Operatives



Our

Team
We are well equipped to take responsibility and ownership of your service requirements, from finding candidates to running a smooth operation to ensuring your business runs effortlessly to ensure your operations and costs are on track and compliant.
We take full accountability providing thorough training and inductions are carried out and behaviour is monitored creating a hand-in-hand partnership with our clients. We will help plan labour provision, provide pay rate analysis and competitor analysis, we will be your personal in-house recruitment expert.
It needs a local business presence to attract local people to local roles. We often find that we can also support clients from multiple locations due to the location of our teams. Industrial recruitment is at the centre of our business, it's our largest sector to date and we have hundreds (if not thousands) of workers operating in this sector across our branch network.
Our management team has a combined experience of over 100 years. Our business also operates a 24-hour on-call service so that we can support the business needs of our clients day and night.
We also uniquely own a Centrally based Resourcing centre dedicated to the recruitment of onsite candidates nationally, allowing our onsite Account Managers to do what they do best – Manage your Account and the workforce within. The National Resource Centre (NRC) is dedicated to carrying out daily recruitment campaigns utilising social media, job boards, referrals, and job fairs.
​
Our

People
We offer our candidates stability and continuity of work wherever possible to ensure their security and peace of mind and we manage their expectations with the highest levels of communication. It's just one of the many reasons why 93% of our Permanent candidates have stayed with the organisations in which we place them for over 12 months and 91% of our Temporary candidates complete the length of their initial assignment.
We pride ourselves on our employee engagement; Candidate engagement and retention are equally as important as proactive recruitment and sourcing. We engage and motivate our candidates through our unique reward and recognition schemes as well as conducting weekly performance reviews on-site together with your own management team.

Some initiatives that we find to be particularly effective in increasing engagement & staff retention levels are:
Referral and recommend a friend scheme,

Temporary worker of the Month schemes,

Christmas and Seasonal onsite events,

Team events,

Dedicated communication channels,

Weekly onsite surgeries and attendance and productivity-related bonus schemes
Our

Process
​
Working in true partnership with our clients, our process is geared around increasing operational efficiencies whilst reducing cost through 'right first-time' screening and recruitment, effective onboarding, increased retention, performance management and ongoing continuous improvement

Process
TUPE –smooth and compliant transition from incumbent partners. Our dedicated HR and implementation team can ensure a fully compliant and seamless transition

Three dedicated Sourcing Methods – Utilising NRC, Branch-based and Dedicated Account Managers and Direct recruitment

Pre-Induction Videos – thus promoting the working environment, culture and benefits whilst enabling candidates to decide if the environment is right for them before a site tour

Face-to-Face Interviewing

Site Tours and Site Inductions

First Day Check-ins and Meet and Greet

Daily and Weekly Planning Meetings

Daily and Weekly Performance Reviews

Daily and Weekly Temporary Worker Surgeries

Monthly Documented KPI Review Meetings with Management Team

Monthly Engagement Surveys

Monthly Engagement Incentives

Exit Interviews and Feedback
​
The

Results
With the best local knowledge, the best local candidates and the best local employment opportunities, we offer the best value recruitment experience thanks to our partnership-based approach. An approach that is clearly working given over 90% of our clients would recommend our services to others and is why our average client relationship is over 9.4 years in length. Similarly, 75% of candidates would recommend us to others to find their next job opportunity plus 99% of our temporary workforce is recruited from a 12-mile radius of work.
​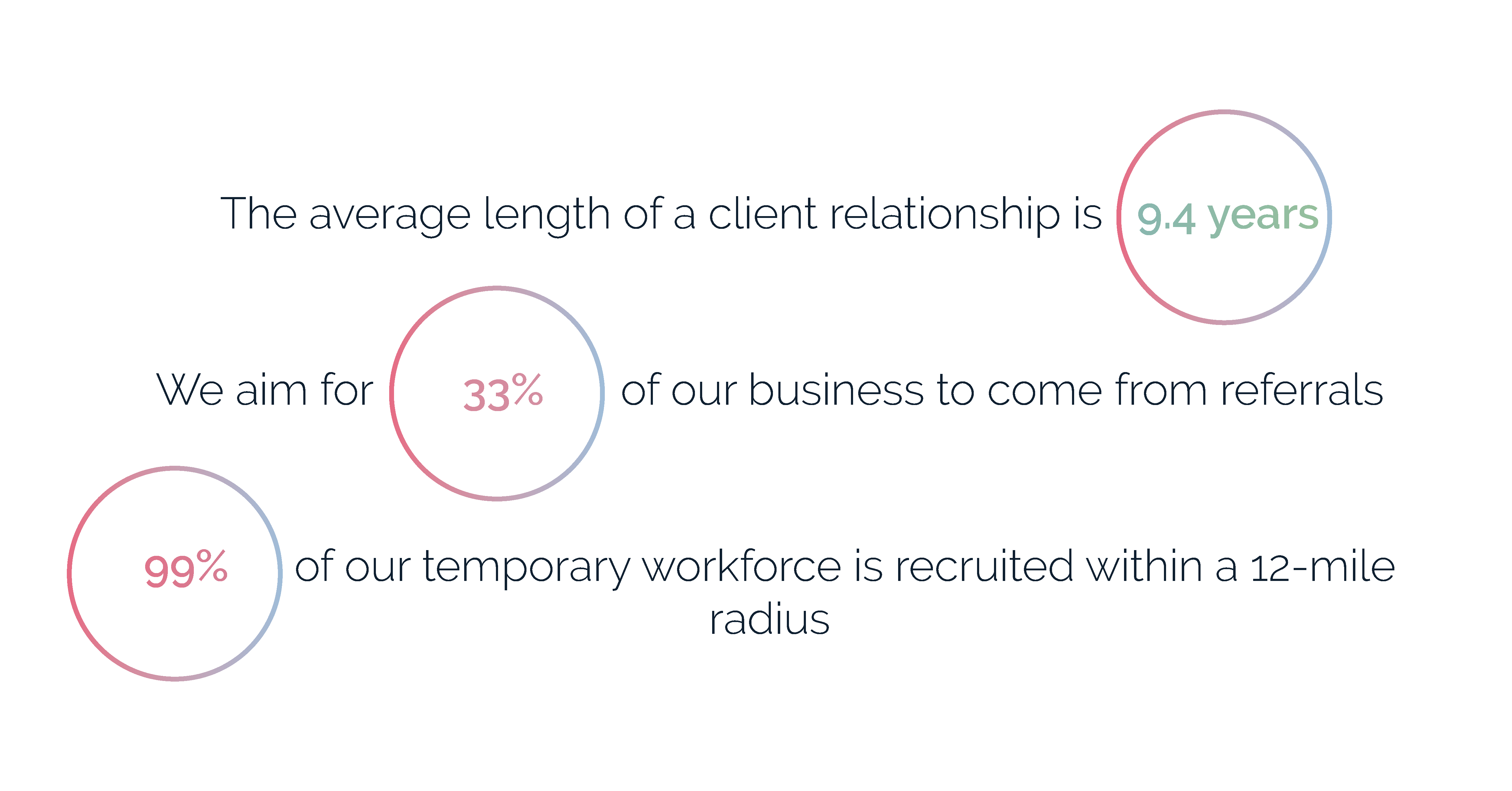 We're powered by people, which means we're powered by you– find out more about The Recruitment Group's different and exciting approach to recruitment today.
Want to find out more or are interested in our services? Contact your local branch today!
​