Our

Offer
Investment in our people is our biggest differentiator, and the quality of our consultants helps us to deliver a service we can be proud of. We invest in ongoing training and development, meaning that when you work with The Recruitment Group, you'll always find yourself in the hands of an expert with personality, a clear sense of integrity, and an honest approach to business.

We know the Industrial sector inside and out and we know and understand the challenges of attracting people to these roles.
We recruit for employers across a range of sector areas including
industrial

construction

manufacturing

landscaping

warehousing

removals

retail
And that's just scratching the surface.
We use technology to improve our service such as using an App called Rota which enables us to build, manage and engage with our workforce using one platform to ensure Time, Attendance and Payroll are always delivered on time and to budget.
We also have many accreditations including being corporate members of REC, ALP and Sedex. We also have a GLAA Licence as well as being part of Stronger Together, BRC Global Standards and a crown commercial service supplier.
Roles we typically recruit for in this area are:
Warehouse Operatives/Pickers

Packers

Loaders

Unloaders

Forklift truck drivers (all licences)

Machine Operators

Manufacturing Ops

Labourers

Our

Team

We have over 200 years of combined experience within the industrial sector & many of our consultants are Certified Recruitment Professionals.
Industrial recruitment is at the centre of our business, it's our largest sector to date and we have hundreds (if not thousands) of workers operating in this sector across our branch network with a state-of-the-art CRM system coupled with a branch network and specialist recruitment hubs mean we have access to and can source the best talent immediately.
Utilising our extensive network, we go the extra mile to verify and assess candidate backgrounds and personality fit to ensure the quality of the appointment.
Our business also operates a 24-hour on-call service so that we can support the business needs of our clients day and night.
​
Our

People

We offer our candidates stability and continuity of work wherever possible to ensure their security and peace of mind and we manage their expectations with the highest levels of communication.
We spend a lot of time getting to know our candidates to successfully place our candidates in the right role.
It's just one of the many reasons why 93% of our Permanent candidates have stayed with the organisations in which we place them for over 12 months and 91% of our Temporary candidates complete the length of their initial assignment.



Our

Process
We deliver tangible results by using market-leading processes to ensure all client's and candidates' needs are taken care of by taking everyone we work with through our six-stage process.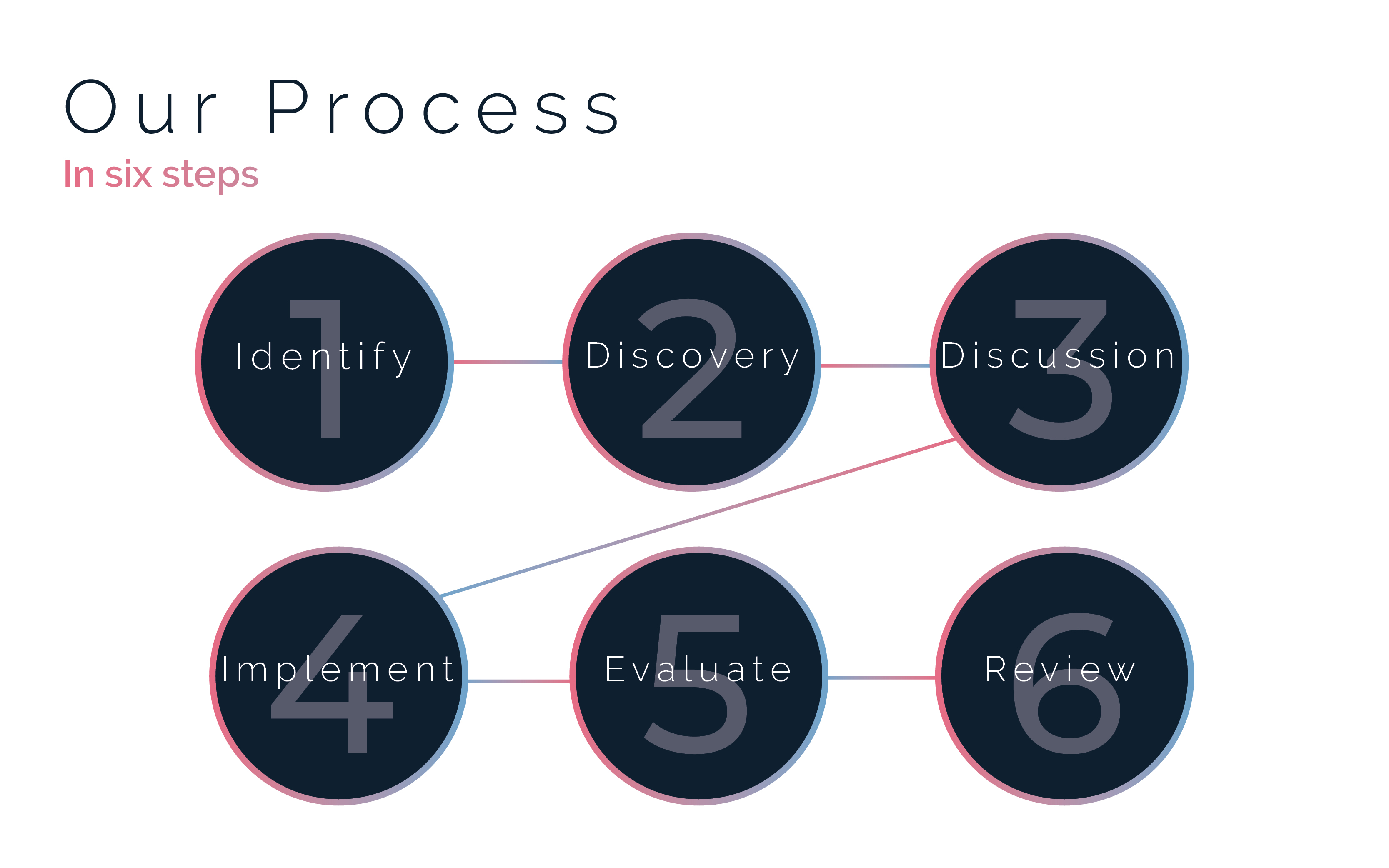 ​

The

Results

With the best local knowledge, the best local candidates and the best local employment opportunities, we offer the best value recruitment experience thanks to our partnership-based approach.
An approach that is clearly working given over 90% of our clients would recommend our services to others and is why our average client relationship is over 9.4 years in length. Similarly, 75% of candidates would recommend us to others to find their next job opportunity.
We aim for 33% of our business to come from referrals. 99% of the temporary workforce was recruited from a 12-mile radius of work.
​"I moved my recruitment over to the team at Loughborough back in September 2020 and haven't looked back! Tonia and the team provide me with a wide range of roles from warehouse operatives, to forklift drivers and electrical wiring operatives. We have a challenging contract here where numbers can fluctuate at incredibly short notice and the team at Loughborough always comes up trumps with not only the volume we require but the skill level and quality. Tonia regularly visits the site to deal with any queries, either from us or from the workers which is a really nice touch. I know they have multiple offices across the UK but I still feel like I have the highest quality local service from local recruiters, I would highly recommend the team to anyone." DIAM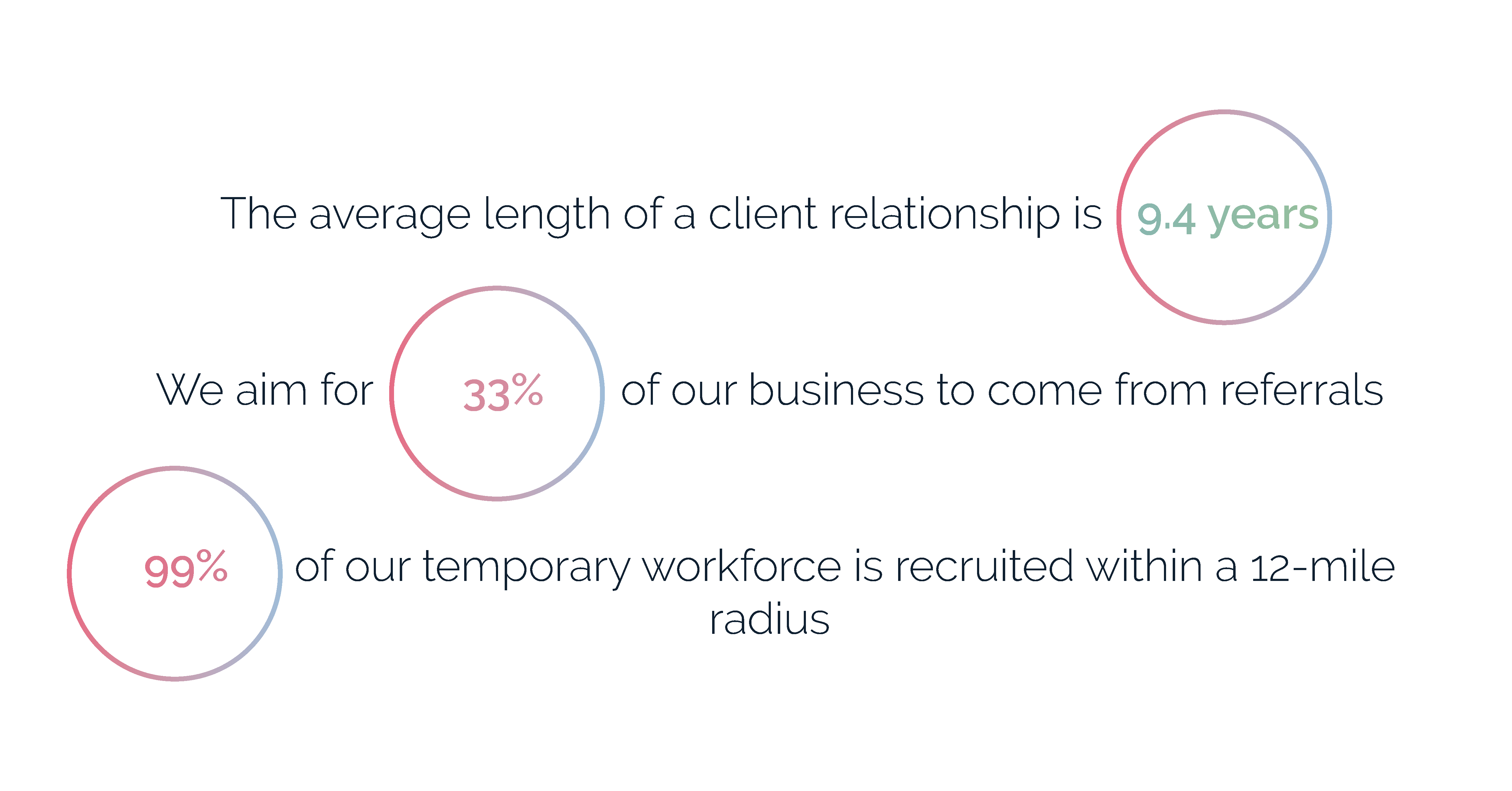 ​We're powered by people, which means we're powered by you – find out more about The Recruitment Group's different and exciting approach to recruitment today.
Want to find out more or are interested in our services? Contact your local branch today!
​
​
​