​
It's our birthday!!!

​
It's the 6th of April! For some, that may not be a significant day but for us, it's a day to celebrate - it's our official 1st birthday as The Recruitment Group! Yes, that's right! One year ago today, we merged six of the regions best independent recruitment agencies, to change the face of recruitment with a mission to put people first. And it's safe to say, we haven't looked back since.
​
Our Managing Director, Paul Hipkiss shares his thoughts on our first year;
​
" It's been a real rollercoaster of a year. Lots of new people joining and lots of existing people joining The Recruitment Group from their historic companies. Lots and lots of memories, from fun activities to sponsorship of the Recruiter Awards which was the highlight. We've also moved Head Office twice and acquired another business; On-Call in Nottingham.
​There's been lots and lots of growth, lots of opportunities, but most of all, lots of fun for everybody that works here. It's great to see the people that we've got working for us continue to grow in their careers.
​When I joined 18 months ago, we had around 40 people working for us, and we now have over 120.
When we set out about coming up with our core values earlier last year, we identified certain people that work within the business and every single one of them, as most people do that work here, were driven. So, that was a really easy one to choose"
​
Over the past year, our business has grown from strength to strength. We're incredibly proud of our teams for helping to make The Recruitment Group what it is today.
And there's plenty to celebrate - check out some of our most impressive stats from the past year
​
​
​
It's been an incredible year. Not only have we grown as a business, but also as a family. We've had plenty of ups and downs, celebrated so many achievements, and had loads of fun in the process. From giving out chocolates on World Chocolate Day, to fun days out, to hilarious Sales Day challenges, and an incredible awards evening; our business really is powered by people.
​But don't take our word for it - have a look at what we've been up to!
​
​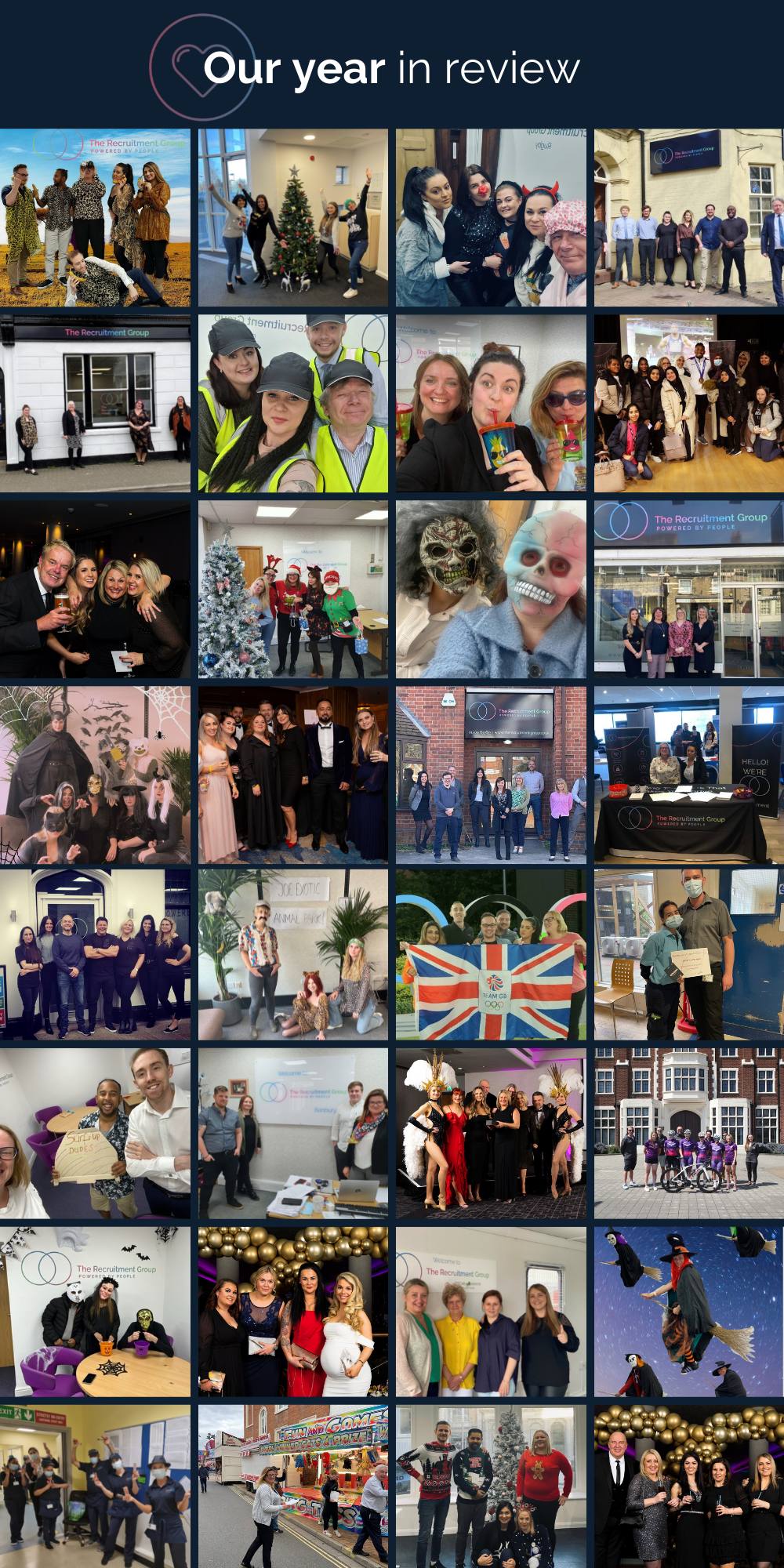 Our values
Over the past year, we've incorporated our values into our DNA, these core values are incredibly important to us, and are traits that our entire family naturally live by. We have 5 values, Accountable, Driven, Genuine, Caring & credible - all of which have different meanings to us.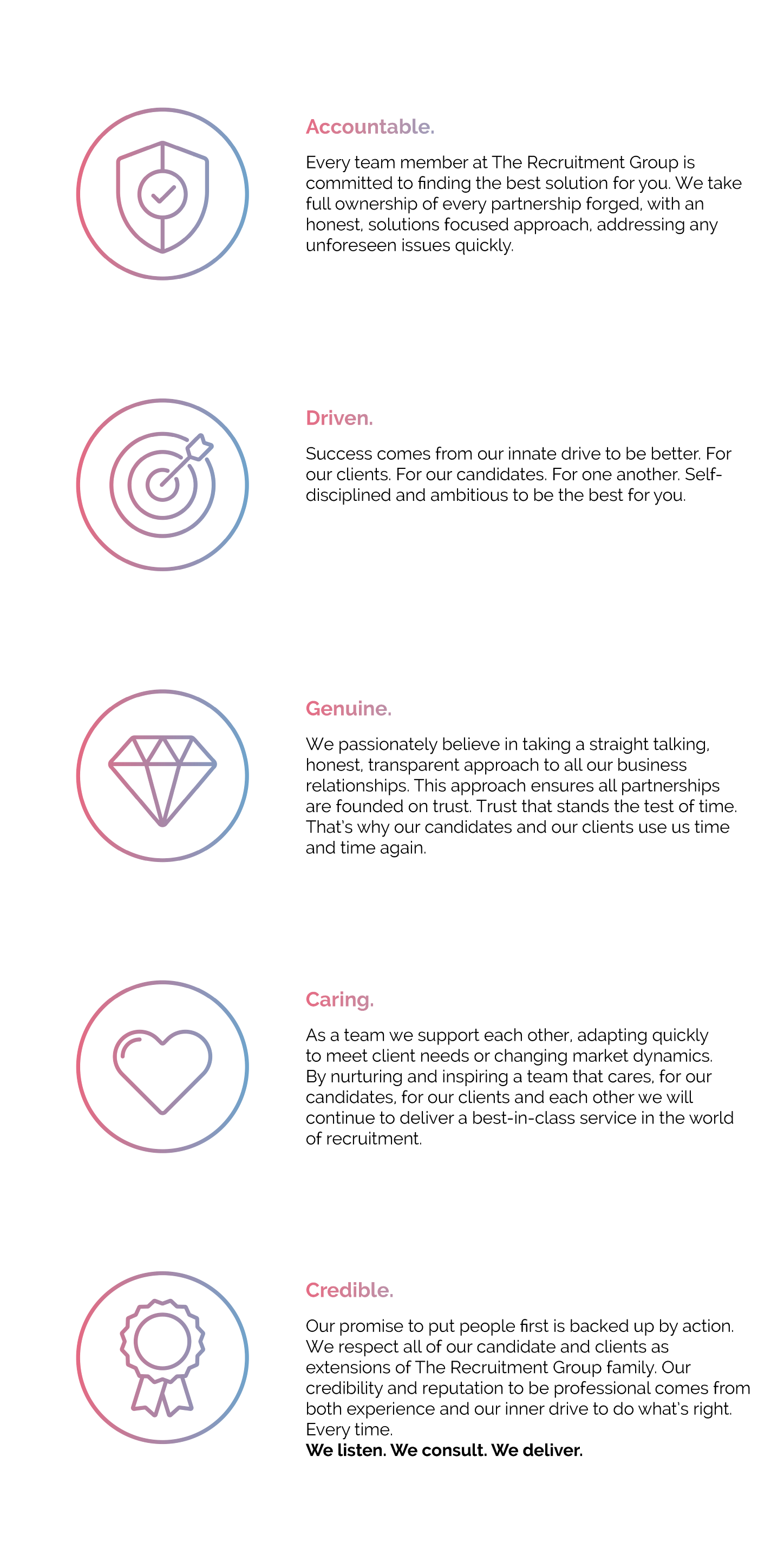 And finally...
To celebrate our one year anniversary, we had a spoke with some of our senior team to discuss these values, and what they mean to them and as a company. Watch the full video below.
​
​
​
​
So why not join us?

One year in, we feel like we're just getting started. Our family has almost doubled in a year, and we are showing no signs of slowing down! We truly are #poweredbypeople, and none of our achievements would have been possible without our employees, so THANK YOU! ❤❤❤

Here's to another year of redefining recruitment. If you want to join us on our journey check out our internal vacancies here
​